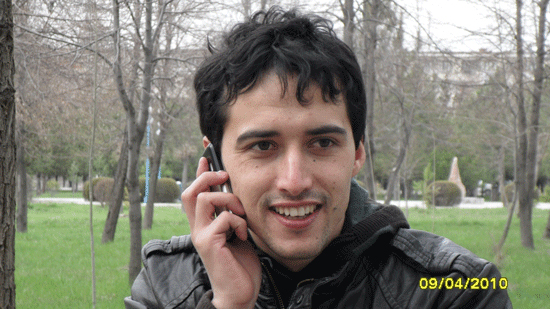 Aibek Esengulov is the co-founder of MakeUseOf.com – one of the best sources we have on the web, for reliable information about useful tools, and applications. Today, with about 5.5 million unique visits per month, MakeUseOf.com is among the coolest technology blogs on the Internet. Aibek, who presently resides in United Kingdom, got his Bachelors in Computational Science from Germany and decided to launch his own company. However, his first project was a complete failure; but that did not stop him from pursuing his entrepreneurial dream and he started working on MakeUseOf.com. But just starting did not bring him success – he had to stick to his guns for nearly 2 long years before earning anything out of it.
MakeUseOf.com, since then, has been featured and recommended by a lot of mainstream websites and publications including Fast Company, Washington Post and PC Magazine – thanks to Aibek's, his co-founder's and his team's consistent efforts.
In this transcribed version of the audio interview, Aibek shares his startup story, journey and speaks about his experience of launching, growing and leading a team of a bunch of technology geeks at MakeUseOf.com, with us. Interview Overview:
Hi Aibek, let's just get started with your background and entrepreneurial journey. Also, where are you basically from?
I am mostly in UK these days; in the last few years lived in Germany, Denmark and Netherlands as well. But I am originally from a small country in Soviet Union called Kyrgyzstan – a very tiny place near Kazakhstan.
I have a Bachelors in Computational Science, basically it's a computer science plus math. I got my Bachelors from Jacobs University based in Bremen, Germany. Then I went for Masters in Entrepreneurship at Aalborg University in Denmark. So that's basically my background. But to be honest, my education did not really motivate me to start my venture. I was very passionate about web and after sometime turned it into MakeUseOf.
My entrepreneurial journey started back in college. I was doing all kinds of things starting from selling stuff on eBay to developing websites with and aim to sell them after they gain some popularity. Made some money this way.
Sometime during my studies in Denmark, I decided to go to Bangalore and start my own startup. I went there, tried hiring a team and working with them for a few months. Within 3-4 weeks, I realized that it's going to be way harder than I thought. So it never took off. That was my first serious venture which failed. I still had a few months to go in Bangalore so I started MakeUseOf.com. First, it was a hobby but in a year or so it turned into a full time job for me and then it turned into a business.
So what was that you were trying to do in Bangalore?
It was a web service specifically for webmasters. The idea behind the service was to provide website owners with an easy way to track statistics and performance of their website on search engines.
Can you tell us in more detail how did the idea come? How did it evolve from there?
All I knew was that sooner or later I would like to create some kind of popular web service. Around that time, I discovered TechCrunch; it was really small back then, may be with 5000-8000 subscribers. I followed TechCrunch to find out what kind of web based services are out there and are popular, which are make money and stuff like that. So, while I was reading that stuff, I realized that TechCrunch is writing for people who would like to launch a web service, and not for those who just want to know what kind of useful websites exist. So, I decided to fill that hole and started MakeUseOf.com blog. As you can see from the name MakeUseOf, the idea was to let people know about useful websites they can make use of on a regular basis.
So how did you find your co-founder, Kaly Mochoev and got together on MakeUseOf?
I know Kaly for many years; he is a good friend of mine. He was always interested in this kind of stuff. So at one point, I told him that I would like to start a website and I don't want to do it on my own. I asked him if he would like to join me and he agreed. That's how I got him on board. But I used to know him for a long time maybe for 15 years even before we started MakeUseOf together.
For the first two years there was no income. We would put work and get nothing in return, there would be no salary, nothing. We started making money and hiring people only after 1.5 – 2 years.
You might have come across websites who were doing similar work, writing reviews about apps and tools. So, what do you think made MakeUseOf stand out of the crowd? What were the initial challenges that you faced?
Indeed, I think until about a year after when I first launched MakeUseOf, there were not many similar sites yet. I wasn't the first one for sure; maybe a year after MakeUseOf launched there were already many similar sites popping up. Our only advantage was the quality of content. We were obsessed to produce articles that would be popular on social media. We were really doing our best.
Let's say there were people doing lists on different kinds of subjects, we would do a list as well but make sure that our lists is the best. If our article says 10 best apps for something, it would be for sure the best. We would put a lot of work and efforts to make sure it was a good article, so that was our only advantage. We were only 2 people and sometimes an article would take 3 days for me to do. I would research for the article for the first 2 days and on the third day I would write and publish it. So I used to put a lot of time into a single article. That's how we stood out from the crowd.
Do you mean to say that quality matters more than frequency?
Well, of course quality matters a lot. But for any popular website the quantity is an important factor too. At the end of the day, the more articles you have, the more traffic you get from search engines. However, to stand out in the beginning, the quality is the only factor – I think.
Where did the initial traffic come from? And, what are the major sources of that MakeUseOf.com drives traffic from at present?
The rules that were working back then are not really applying today. Back then, it was relatively easier than now – I would say. For example Digg was just starting up and StumbleUpon.com wasn't as popular yet. So, it was fairly easy to get to the front page of Digg or become popular topic on StumbleUpon. You just needed to study what kind of articles tend to get popular on those sites, write such article and find someone who will submit it there for you. You didn't need to do anything else. Of course, it's not a guarantee that your article would be popular. But one out of every ten good articles would make it and drive a lot of traffic to the website.
In regard to our current traffic, about 60% of the traffic comes from search engines – mainly Google. Google drives 90%, if not more of all search traffic. About 20-25% of the traffic is sent by referrals from popular sites like Facebook, Digg, StumbleUpon and Twitter. The rest comes from a bunch of smaller sites.
So you guys don't do any active marketing as of now?
If by marketing you're referring to buying the ad space somewhere then we don't do any marketing. We are currently running some brand building campaigns to take MakeUseOf brand further, which is basically, distributing MakeUseOf guides on different networks. We have 30-40 PDF guides on different subjects. We contact a network that has a lot of publishers or subscribers and give away our guides to them for free to distribute to their publishers or subscribers. Most of the users eventually come through the links mentioned in these guides.
You have got pretty healthy community on both Facebook and Twitter. How do you manage to attract people? And, how do you keep your communities engaged?
We promote our Twitter profile via a link in our RSS feed. As for the Facebook, we mainly promote it in our newsletter which now has over 230,000 subscriber. We emailed the readers and asked "Hey guys, join us on Facebook. We need your support!". That helped us to get started.
We use Twitter profile mainly for notifying followers about newly published items. Facebook, on the other hand, is where the action is. We announce different types of giveaways there. Talk to readers. Ask them for feedback. Give away coupon codes to some popular software. We talk to our users on Facebook. We do some stuff that we don't on the website. Facebook is more important for us right now when compared to Twitter. It also drives considerably more traffic than Twitter.
Can you walk us through the process that you guys follow in order to discover and publish such quality content, and how is the work assigned among your team, in other words, can you talk about your internal work-flow?
Okay, just to give you a small overview; we have around 25 people in the team. Out of this 25 people, we have 6 or 7 editors. Each editor is responsible for one part of the website. For example, Mark O'Neill is our managing editor; he is responsible for everything that happens and is published on MakeUseOf.com. Then we have a directory; its slightly a different part of the website. We have an editor for that as well, Kaly, who is also the co-founder. He is responsible for everything published there. Then we have a Q&A section on the website; we have another editor there as well. For each section of the website we have one dedicated editor.
There are staff authors, people who are actually writing the content. On the main blog, we have about 10 staff authors. Authors basically research and whenever they find something interesting to write about, they write an article and submit it to publication. The article first goes to pending status until one of the editors goes to the article and checks it. If accepted it is scheduled for publication.
On the directory, we have another 5-6 authors working. On Q&A, anyone can submit a question and anyone can reply. Tina, who is the editor for the Q&A, moderates those questions and answers.
Is MakeUseOf bootstrapped from the beginning or did you ever go for any outside funding?
No, it was always self-funded. My basic philosophy was to start a business that would be always profitable. When we were not making any money, we were not hiring any people. As soon as we started making money, we started hiring people. Our very first employee was Mark O'Neill, who is our managing editor. Even when he just joined us, he was working for free. He basically told me, "Hey, I don't mind not getting any salary right now, if you can give me assurance that we will be making money afterwards". I said, "Yes, sure! Just hang in there for a month or two and we will start making money". That's how he joined us. That's the whole philosophy of MakeUseOf. Although we are not well monetized website, we were always profitable. Every month we have a huge salary to pay and still remain profitable.
Can you talk about the revenue sources that you guys have? And, which is the most profitable revenue source at present?
Well, in the beginning of course, I started with Google AdSense. That was our main source of income between the second and third year. Because CPM networks are not willing to accept websites which have less than 1 million page views a month. So, before we reached to that level, our only option was Google AdSense. When the traffic grew we started using CPM networks as well. Right now we are also working with three CPM networks who sell banner ads for us. These are Technorati Publisher Network, Netshelter and Tribal Fusion.
Between Google AdSense and CPM, AsSense is not the most profitable one but its the most relevant one, I would say. Google still makes up for a large portion of our monthly revenue. But the most profitable ones are the premium ad campaigns that big websites usually get. When you have a large website, you are often able to score good deals from CPM networks. Usually, you have very good rates for those campaigns and they make a lot of money. So, when you have a big website, you get some premium campaigns on a regular basis. Those premium campaigns make most of the income but for standard campaigns, I would say, Google is one of our most reliable income sources.
Apart from advertisements, are there any other sources of income for MakeUseOf?
Well, potentially there are. As I have said previously, for example, we have a huge newsletter which currently counts over 230,000 subscribers. Unfortunately right now it's not even covering the fees that it costs us to maintain it. We are exploring way to monetize it. With the right affiliate campaigns we can generate more revenue from our newsletter than any of the CPM or contextual networks make for us right now. It's our plan to monetize it in the future, we are working on it.
MakeUseOf.com domain was hacked in 2008. What do you think were your lessons out of it?
I was away for 2-3 hours from my computer. When I came back I saw a domain transfer notification emails from GoDaddy. By that time the domain was already gone. The website was online but the domain was on another registrar under a different owner. Few moments later, the hacker changed the DNS records to something else and the website started directing users to something else. Shortly after I was contacted by a hacker who was asking for $2000 for the domain. I wasn't going to pay him so my idea was to keep him busy talking to him while GoDaddy tries to retrieve the domain.
I contacted GoDaddy and asked them for assistance. They have a procedure for it. I did everything they requested. It stayed so for about 24 hours before we could get our domain back. Looking at the situation right now, I would say, we were a bit lucky back then because a lot of people covered the story for us and that helped us get our domain back fast. We wouldn't have got our domain back so fast if the story didn't get popular and people on Twitter, Facebook, Digg or StumbleUpon weren't talking about it.
This event really affected and changed a lot of things in how I do my work. First of all, I would recommend everyone who has a domain and serious about doing something with it, is to register it with a private registration. Every company offers that kind of services. If regular registration costs around $9 a year, the private would cost around $30 – $40 a year but it make the domain much more secure. Pay that amount and stay safe. Be careful. Change passwords regularly. Use different, longer passwords. Keep a separate email address just for the sensitive accounts and don't use them anywhere else.
I found out that hacker first got to my Gmail account. From there it was fairly easy to retrieve login credentials for GoDaddy, Paypal etc. After that, I changed a few things. I changed the email, how the domain was registered, protected the registration. So, right now it's more secure but of course it's always important to be on alert.
What is in store for MakeUseOf in the coming years? The traffic is almost 5.5 million unique visits per month. So, what next?
The next, basically, is to grow. Our plan right now is to become number one destination for anyone who wants to find out about interesting software or websites. Anyone who just wants to know more about cool things on the Internet, interesting websites, useful software, can get it all on MakeUseOf.
If someone needs help with a computer issue they can ask it on MakeUseOf Answers.
So, the goal is to grow and become a mainstream website for everything cool on the web. That's where we are heading right now.
What s the biggest learning you have acquired while running MakeUseOf, as an entrepreneur?
As an entrepreneur, I think the single most important lesson or the quality I would suggest to someone is persistence. For the first two years, I would work every day on MakeUseOf without seeing anything back in return. It was really easy back then to give up and start something else. I think persistence helped me here. I had a goal to make a popular website and stayed on it. I stayed on the track and didn't try to do something else. Usually when people don't get any return in a few months, they tend to give up. I think it would help anyone because I wasn't particularly gifted about something. I'm just a regular guy. Persistence helped me. It was the most important quality that took me to where I am right now.
Are you still pursuing your dream of building a web based service?
Actually, not right now. My dream is MakeUseOf , MakeUseOf is everything I wanted. It's useful to people and unique in its own way. My goal is to make it better.
P.S: Special Thanks to Our Voluntary Transcriber – Afshan Khan.