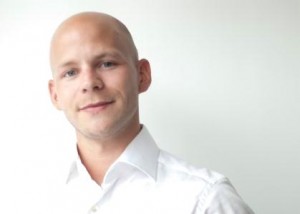 Tor Grønsund, entrepreneur, blogger, and lecturer, is the man of multiple ventures. Tor is the founder of Lingo Social, a software company based in Oslo, Norway. He is also advisor to EasyPeasy, an open source and web-based operating system for portable computers, and speaker at various Internet and startup events.
Through his entrepreneurial career Tor has co-founded Unplugd, a dorm-room startup turning private wifi routers into public hotspots, operated his own market research practice – both while still studying, worked with FAST Search and Transfer (now a Microsoft Subsidiary) and Schibsted ASA, followed by joining Ignitas, where he has been involved with various early-stage ventures.
Tor runs a blog, Startup Methodology – Methodologist, where he shares his insights, knowledge and experience with fellow entrepreneurs. On his blog, he writes on numerous interesting and worth-knowing-about startup methodologies such as Disruptive Innovation, Diffusion of Innovations, Agile Development, Business Model Canvas, Lean Startup, Customer Development and Rapid Prototyping.
In this interview, Tor spoke to us about his experience as an entrepreneur, in-depth about startup methodologies, lean startup & cust-dev and a lot more.
Interview Overview
I grew up in an entrepreneurial home. As a result I was exposed at an early age to the world of technology and ventures. I believe that this has influenced me in many ways. I developed an early passion for web- and search engine technologies, and went on to study Information Science and Informatics at the University of Bergen, where I received my bachelor degree.
The studies were all about developing software, and I found that I never got to put into use what we built. This made me want to learn about taking technology to market. Consequently, I went on to study Entrepreneurship and Informatics at the University of Oslo (where Prof. Dahl and Nygaard conceived Object Oriented programming – an inspiration to me).
While studying for my MSc at the University of Oslo, I co-founded Unplugd Networks together with my brother. This was a dorm-room startup turning private routers into public hotspots. We got this idea while I was working as summer installer at Nextnet, an early-stage Norwegian WiMax and wireless service provider. By talking to customers in field I found that some were not in line-of-sight and unable to receive wireless signals. Why can not the customers plug into their neighbor's wireless connections, we asked.
Back at the dorm we started playing with router software and Radius servers. We came up with a pretty cool solution that enabled people to share their wireless connections. Unfortunately, it soon turned out that telcos were not happy about us re-selling their wireless signals. When all is said and done, I learned a lesson and two about what not to do in sales. That led to my own market research practice, and I got work with companies such as FAST (now a Microsoft subsidiary) and Schibsted, before by joining Ignitas, a Norwegian online media and seed investment company, as one of the first employees.
Great, can you tell us a bit about yourself too?
Currently I'm co-founder of Lingo, the company behind EasyPeasy and Lecturer of Entrepreneurship at the University of Oslo. I guess I live a peripatetic existence. I enjoy 500 Startups' website saying "Our founders are rock stars, scientists, and artists all in one". Well, who doesn't want to be a rockstar; my interests and methods have a scientific orientation; and if not artistic, I love drawing models and solve problems at the back of the napkin.
I like the notion of a methodologist. Generally, a methodologist is one who studies methodology, which is a set of methods, techniques and tools that is applied within a disciple. I find this somewhat different from that of an analyst and strategist who often operates in a solution-oriented context. My view of a methodologist emphasizes teaching and learning a set of methods for addressing a problem. I believe that knowledge of methodologies will enable companies to become sustainable in solving their own problems and deal with opportunities in an ever-changing environment. By bridging proven innovation practices with hands-on experiences, I apply this idea to methodology of risk reduction in new-product introduction.
What is EasyPeasy? How did the concept of EasyPeasy evolve?
EasyPeasy is an Internet OS for netbooks. It is Linux-based, and is arguably the first web-centric operating system customized for netbooks. The project was started by my colleague Jon Ramvi. In Australia at the time when netbooks had hardly reached the marked, Jon figured that existing OS' were too "heavy" to run on those small and nimble machines. He decided to build an OS that were lightweight and focused on people that wanted an open source platform alongside proprietary applications. Captured by the disruptive opportunities of cloud computing, open source, and low-cost devices, I soon came on board. Despite of fierce competition and the rise of tablets, EasyPeasy now has a six-digit number of downloads with users in over 166 countries, and still growing. Currently, we are testing some exciting minimum viable products.
You run a blog on startup methodologies? Can you tell us what exactly it is and how did it start?
My blog focuses on methods and tools for entrepreneurs. It aims to uncover a gap between technology and marketing, and puts it to practical use by giving entrepreneurs (and intrapreneurs) usable methods and tools that they can use to reduce risk in new-product introduction and build capitally efficient scalable businesses.
Well, it is actually a "minimum viable blog". I had tried to start blog several times prior to this. Every time I had set up the LAMP stack, hacked a cool WordPress theme and fine-tuned its look-and-feel. I was completely focused on the technical stuff. Consequently, I never got to write any actual content. This happened over and over again.
As I got aware of this "failure pattern", I figured it was time to go quick-and-dirty. Forget about that stunning domain name, forget about LAMP setup, forget about the cool theme – just write that post, I decided. My first post was about creativity vs. discipline in entrepreneurship, which eventually evolved into the idea of a Product-Market Fit diagram. I call to remember that Sean Murphy was the first to respond to my blog. Subsequently I had a chat with Sean, who inspired me to continue blogging (thanks Sean).
If you substitute the sound of "Blog" with "Product" in the story above, the process has in fact much in common with startup methodologies – about getting out a Minimal Viable Product, iteratively testing it for feedback with customers, and based on that, maneuver it in the "right" direction. I am in the middle of the process od developing my blog by this notion. Actually, one of the posts are about spin off a service, which I'm currently testing for users' feedback.
You are talking about Minimum Viable Products, how would you define it?
I am a proponent and big fan of MVP. Although I believe that others can answer this better than I will, I find it useful to think about MVP as the creation of rapid prototypes for testing business model assumptions, and using customer feedback to test and develop them faster than via traditional practices. It's like rapid prototyping on marketing steroids. An important assumption with MVP though, is that "speed wins". That does not necessarily account for all technological and economical conditions.
As mentioned, a blog or even a blog post could be a MVP. Another MVP that I recently did with an online video service was based on a simple landing page hosted with WordPress, and running an online survey using WuFoo. We tested various value propositions, used AB/testing with users acquired from Google Adwords alongside meeting with potential users face to face. We learned a lot from this exercise. As we did here, you may find it sorry if the data speaks against you. But think about it, you just saved yourself from spending precious time and money.
What makes you so passionate about startup methodologies?
My passion for startup methodology goes back to when I migrated from studying software engineering to that of technology management. I remember the day when I was sitting in front of code at the university and came to think "such a waste – we develop all this cool stuff, but never get to do anything about it".
At the time I had begun to see anti-patterns among software and marketing methods, and came to think of better integrating the two. While agile methodologies are inevitable for successfully building software products, why isn't there an integrated method for launching and taking that product to market, I asked.
I presented the idea to both faculty and entrepreneurs, but most feedback was about entrepreneurship being more about gut feeling than about systematic methods. Yet, I continued digging into Scrum and Software Patterns at the one hand, and Disruptive Innovation, Diffusion of Innovations, Lead User, etc. at the other.
Following, when I did my thesis drawing on business models and value configurations in two-sided networks, I became inspired by Alex Osterwalder's work on e-Business Model Ontology. Still unaware of methodologies of early-stage entrepreneurship, I discovered Customer Development by Steve Blank, who I found to be a true master of building on the cleverest theories and applying it to startups in a practical manner. This led me to Eric Ries' Lean Startup and the real deal of integrating agile product development with commercialization.
In short I found that the Business Model Canvas could make use of a methodology, as well as the Customer Development and Lean Startup methodologies could make use of a common business model structure. This lead into a threefold startup methodology inspired by agile development, customer development and the business model canvas, also called the Lean Startup and Business Model Canvas mashup.
Can you elaborate more about this mashup of agile development, customer development and the business model canvas?
It is a threefold startup methodology that uses rapid prototypes and customers' feedback for iteratively proving business model hypothesis.
I once learned from my father, a mentor and serial entrepreneur, that business models at startup is about acid-testing (as he choose to call it) your core business assumptions. Influenced by the Business Model Canvas at the one hand, and Customer Development and Lean Startup at the other, I took this one step further by applying its' iterative methods and testing schemes to each business model component.
In this process I discovered that Customer Development principles complied with the front-end business model canvas components, and that agile development complied with the back-end components. I found that the Product-Market Fit, another key tenet with the Lean Startup, could correspond to Minimum Viable Product with the Value Proposition component as a result of customer development and agile development acting iteratively.
You are teaching entrepreneurship at the University of Oslo; how has the experience been?
Yes, I teach and develop an interdisciplinary course at the Centre of Entrepreneurship that is practically as well as theoretically focused.
I hope to contribute in bridging education and entrepreneurship, as well as uncovering a gap between technology and marketing. I believe that at start-up where resources are scarce, founders would benefit from having both skill sets, or at least understand the two. One too many times I have heard the B-scholar saying that he have a great idea and now only needs someone to go develop it for him, and similarly the engineer saying that he have a killer product that will go off selling itself. I hope to fix that.
Various times I've also been told that entrepreneurship cannot be learned. I believe that this has to do with the infamous and interesting nurture vs. nature discussion. No less than that many of the greatest artists of history went to art academy, and the greatest leaders of time went to B-School, I believe that future entrepreneurs will attend E-School. Nevertheless, I believe that startup methodologies can enable entrepreneurs to mitigate risk in new-product introduction in similar ways to system developers are using methods to efficiently build software.
By leveraging customer development principles the course invites students to get out of the building and test their opportunities with real people. We also teach a concept called FRUST (for frustration), which really put the focus on discovering the problem or pain of the customer. I used to joke about one student asking a potential user if she wanted to marry him. Nonetheless, we discover many interesting ideas and facts.
This spring the course will use the threefold methodology of agile development, customer development and the business model canvas. We will leverage rapid prototyping alongside customer discovery and use the Business Model Canvas to connect it all together. I look forward to teach the Customer Development book by Brant Cooper and Patrick Vlaskovits, who you interviewed here. This book provides a fine balance between theory and practical exercises for the students. Let's say I also look forward to see many exciting business models and minimum viable products.
Going forward, what methods and tools will you be working on?
I'll be devoting my attention to testing a couple of minimum viable products with Lingo Social, and launching our next project. Its going to be a good opportunity to learn and try theory with practice.
I expect to be developing the Agile Development, Customer Development and Business Model Canvas mashup into a more complete framework, as well as continuing the Product-Market Fit diagram. I also recently discovered the extreme Innovation and prototyping concepts of Google, which I am eager to study in more detail. And, off course I have some new ideas and observations in my notes that I will be posting on my blog soon. Stay tuned

Last, what advice do you have for upcoming startups in general and with respect to startup methodologies?
Well, I can only advise what I believe in. First of all, I want to emphasize that startup methodologies are not maps. Rather, they tell us how to read a map.
I believe in building that prototype, getting users' feedback, and use the learning for testing core business model assumptions bottom-up. Rinse and repeat.
I try not to pay too much attention to competitors – they steal motivation, not ideas. I'm saving that for the customers. They are the ones who put money in our pocket.