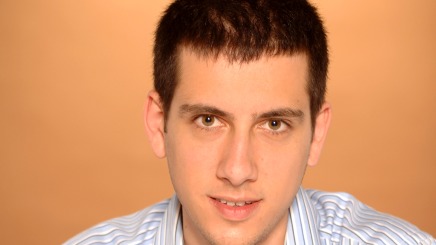 Aviv Refuah, the CEO & Founder of Netexand Springo, has been involved in developing next generation Internet technologies since a very early age. He found, one of its kinds companies, Netex when he was just 17, which is currently listed in the Israeli stock exchange. Today, after establishing a new web navigation company that promises to be a game changer in the way people discover websites, Springo, Aviv speaks with us about his entrepreneurial journey, Springo's future and the role of the idea and advanced technology in any successful startup.
1. Can you briefly let us know how your journey while founding Netex was?
When I first started surfing the Web as a teenager in Israel, I recognized the need to provide users with a better way to navigate the Web. The overwhelming amount of websites makes it quite complicated to find the specific and most suitable websites for a user's needs. As one of the country's first Internet users at the time, I wanted to do to something to help people find the best websites based on a topic. That's how Netex was born. Over the past 12 years, we have been developing cutting-edge technologies, tools, and patent applications that improve the way people navigate the Web. As of 2006, Netex is listed on the Israel stock exchange and now we are penetrating the U.S. market with Springo, our new visual Web navigation service.
2. So, what exactly is Springo? And how do you think it's going to be of help to a regular Internet user?
Springo is our recently launched U.S. service that seeks to untangle the Web. Springo is a visual Web navigation service that provides users with top websites, organized by topics and user popularity. Users can navigate Springo visually as our results are presented as screenshots, in addition to text. Springo's mission is to improve the way people navigate the Web by only offering them the very best results, in a visual and user-friendly way.
The Springo Homepage is an entry point for users to browse the Internet, offering customizable settings and quick links to the most useful and frequented websites. Users can also type a categorical search term into Springo to check out search results that fit their query. These search results are presented visually, particularly effective when navigating on touchscreen or mobile devices.
Springo Express is an unobtrusive Internet browser add-on that enriches the browser with various navigational functionalities including direct navigation, complementing search engine usage, and similar website recommendations. We're not trying to replace other search engines, but instead work in conjunction with them. If a user is searching a category recognized by Springo with a traditional search engine (like Google or Bing), Springo Express will slide out on the lefthand side of the search results page to offer visual, unbiased results that also fit their search query.
3. What made you come up with Springo? What elements, according to you, are missing in the current Web directories and search engines?
The Internet is an information overload. Springo organizes the Web based on users' habits and traffic, and is not affected by SEO, in order to provide a pure picture of the best websites on the Web.
We've been successful because our tools make navigating the Web easier and more efficient. It's really as simple as that. For starters, the experience itself is far easier if you're using touch screen devices, growing rapidly in popularity. Let's say, for example, you're searching for "diets" on the Web. You'll probably hit all types of crazy sites just within the first page of the 24 million results generated by traditional search engines: South Beach Diet, the Grapefruit Diet, the Wikipedia definition, paid advertisements for dieting pills, articles that somehow relate to dieting. Springo gives you just the top, most relevant health and dieting guides and websites.
Through extensive research, we've found that more than 20% of all Internet searches are navigational by nature. What I mean is that the user's goal is to find a website or group of websites about a particular topic. Our tools not only directly address this market need, but they also offer a new perspective on Web navigation. We're not saying that you should only use Springo, but that you should use Springo to complement your traditional search methods.
4. What according to you is more important to make a start-up successful; is it the advanced technology or the concept itself?
We believe it's a combination of both. You need to have a unique concept and vision in order to bring something new and exciting to the market, but at the same time you must have an innovative technology in order to transform your concept and vision into a real product.
5. What is your target market? How do you plan to expand your user base?
Our target is anyone that uses the Web, whether a novice user or a more Internet-savvy pro. To expand our user base, we are promoting our service with creative and traditional marketing and PR strategies. Additionally, we're exploring potential partnerships with other industry players.
6. And, what is the process that Springo uses to evaluate and rank websites for its users?
Our backend algorithm has been developed to reflect the rankings of real-time user traffic of all the leading websites in the US market.
7. Springo seems to bring only reputed sites on top; what about upcoming websites that are offering a better solution?
At Springo, we're constantly evaluating new websites to include in our database. In addition to capturing new emerging websites with automated tools, we also encourage our to submit websites to our team. Of course, it may take a while for a new website to gain enough traction to be listed among the top 4 or even 100 results within a given category. For this reason, we'll soon be launching a Featured Website section to spotlight those sites we find particularly fun or compelling.
8. How and when do you plan to monetize Springo?
Currently, Springo is entirely focused on creating the best possible product and growing our community. Ultimately, our business model will be based on focused advertising and premium services for users. We will integrate those models when the time comes.
9. Where do you think Springo will be standing a few years from now?
In the near future, we're going to increase the effect Springo's community has on the service. Users will be able to affect results based on their real-time Springo behavior. We want results to more accurately reflect the interests and behavior of a particular user; for example, when kids are navigating within our Springo Kids Homepage, their results should be ranked by the preferences of other kids. Additionally, we encourage users to contact us with feedback, whether on Twitter @Springocom or on Springo on Facebook. We believe Springo should evolve based on the likes and dislikes of our community. Other upcoming features include greater social functionality, more solutions that directly target the mobile and TV markets, and customization of homepages.
10. We found the design for Springo to be visually appealing and touch-friendly; how important do you think is it to make interfaces touch-friendly in today's Internet era?
We've only just scratched the surface of touchscreen devices with smartphones and the recent iPad launch. In the coming months and years, we'll see a greater variety in tablet products and increased usage of the mobile Internet. This shift signals an inevitable evolution in the way we engage with the Internet. Visual Web navigation provides a much easier (and appealing!) way to surf the Web on these types of devices.
11.  Last but not the least, what were the biggest challenges that you faced so far in launching Springo?
The main challenge was understanding the U.S. market needs. We believe we've done a great job, both internally and with our U.S. partners, to build the best solution for this market. Nonetheless, we welcome comments and are already further improving our services to reflect feedback.
Liked the Interview? Go ahead and retweet it to your friends or start a discussion below.